In the past few years, I have become a huge fan of Sam's Club. I was a member of another store but I have grown more fond of Sam's Club in recent days. In addition, you can enter to win one of 10 FREE Sam's Club Memberships.
First off, we have been able to become members for nearly nothing the past few years with those amazing Sam's Club membership deals like this one.
Those amazing membership deals are a segway into the great deals found in the store. It's just the start of amazing savings all around.
Why you should consider a Sam's Club membership
I want to share a list of reasons why I have become a big fan of Sam's Club and why I am loving my membership!
Affordable memberships – I love that they make their memberships affordable for everyone. They have the lowest prices for memberships compared to other membership warehouses. This alone makes it a better value. When you can pay less for your annual membership and enjoy the benefits of the warehouse club without paying higher membership prices, that's a value out the gate! Everyday, the price for a regular membership is $45 and $100 for the plus membership. In addition, they will have sales like this $20 off coupon or a $20 gift card and $20 in free food HERE. This makes it a "no-brainer" membership!
They have organic options – One thing we discovered a couple of years ago that really made us big fans was the fact that they were revamping our local Sam's Club to include a number of organic options. They began bringing in many fresh organic foods and produce, packaged and even frozen. We love the organic snacks and fresh produce that are now available in organic and far cheaper than organic options elsewhere. I will share specifics of my favorite organic items below.
Cheap meal time – I love the Sam's Club "cafe." You cannot find a quick lunch with kids for cheaper anywhere. Plus, cheap ice cream and frozen yogurt! That makes family night out cheap!
American Express – For those that use an American Express credit card like a debit card for the points, you can actually use them now at Sam's Club and not Costco. Costco lost their contract with American Express, but Sam's Club picked one up. This is of huge benefit when you grab those big ticket items like televisions, furniture, etc. Now you can get a super stellar price, but get your skymiles too!
Innovative shopping convenience – Sam's Club is rolling out programs and tools to increase the convenience of shopping at their stores like self-checkout, online ordering/shipping to store for pickup and the Sam's Club app. I have also used the app for scanning my items as I add them to my cart in the store, which makes for express checkout! I LOVE this!
Online re-ordering – They offer easy online re-ordering, so you can have products you use regularly shipped, quickly and easily, to your house.
What items are the BEST value at Sam's Club?
We also wanted to mention the items that we buy regularly at Sam's Club. We have priced these out between other warehouse stores and the grocery stores, even to Walmart!
We have a running list of our "regular purchases" and then other items we have purchased on occasion as we see them and seasonal.
For example – these items (in our experience) seem to be the cheapest and hard price to beat store:
Organic salad kits – I love their organic salads in general. I also love the selection, that includes "super foods," not just base bottom lettuce kits. They are $3.98 and the smaller size is $5.98 at Walmart and other grocery stores. But not just the plain salad blends, but also organic salad kits! We love the Asian salad kit the most.
Fresh shredded Parmesan (the hard kind) is cheapest there. We only have to buy it every once in a while as we can get a very large container for $10.
Hormel real bacon bits (these are quite pricey for the non-imitation) in the regular store and we use it in recipes and salads a lot!
French's Fried Onions – 'nuff said. 😉
Healthier Chips and Snacks – I am talking about the sales they will have on the big bags of healthier snack options.
Honey – Fresh local honey and national brands, it is the cheapest here by far! The other benefit, honey never goes bad. So if you buy a gallon of it, you will pay much less than a few small tubs from the grocery store and it will never expire.
Kerrygold Irish Butter and Cheese – this is the cheapest at Sam's Club. The grocery store is nearly $2- $3 more per lb for this brand.
Frozen foods – There are some frozen bulk foods that can only be found at Sam's Club that we really like too, including a good way to get organic options. I am primarily talking about the frozen fruits, potatoes and veggies. We are not big frozen food eaters as I can make the foods for less or buy for less with grocery store coupon/sales, but the frozen produce is a nice price, along with an occasional frozen food need. They also have an excellent price on preformed hamburger patties in the frozen section, along with our veggie selection form Morningstar Farms. Rarely can I get these cheaper in the grocery store.
Produce (including the new organic selections) – When we do make our quarterly or so run to Sam's Club – we often find great produce deals and will stock up to eat fresh or freeze for the future. In the past couple of years, they have greatly increased their selection of organic produce! Our favorite produce picks are the organic sweet potatoes, organic apples, organic bananas and then whatever seasonal fruit/veggie deals going on at the time.
For a large item deal – we have found that Sam's Club is a great place to get freezers – for your awesome food deals – they seem to have lower and very competitive prices on new freezers.
Bread – The bread prices are great. I am not talking about a cheap loaf of bread that you can get for less than $1 at the grocery store, but rather the denser, healthier, heartier, even organic breads. If this is your bread type, Sam's Club will likely have it cheaper.
Televisions – Another large purchase was a new t.v. that was last year's floor model for over 75% off. They had it marked down by over 70% as it was last year's model and the floor display and then we talked them down by another $55.
Photo Prints – When you need some photo prints – Sam's Club has the lowest price at $0.10 a print. It is also easy to upload them from your computer and pick them up in the store and even cheaper that way!
Printer Ink and Supplies – They can also have good deals on office type supplies and ink if/when you get in a bind and have not been able to get those items cheap lately and need them now.
With some exceptions – we will purchase the frozen chicken or fish if/when we run out and there are no immediate sales or we happen to run out (see our explanation on saving on meat).
Batteries – we go through batteries very quickly with our camera that is always on and we live in an electronic world We cannot stock-up fast enough to keep up with our usage so we get the excess that we need at Sam's Club as they have the lowest everyday price on their brand (along with Costco).
Their brand of diapers. If you use name brand, you can get a pretty decent price. You can beat the name brand price with coupons and sales in other stores, but overall for the consistent best deals, diapers are best here.
Paper goods are a good deal here, especially when combined with the Sam's Club, in-house coupons.
Seasonal clothing – I love the clothing selections at Sam's Club. They are super affordable and good quality! They also have incredible "last season" clothing clearances.
Sheet Cakes and Fancy Cakes – They have the BEST prices on fancy cakes and multi-leveled cakes and even better prices on sheet cakes. It cannot be beat (unless you know a baker that will cut you a deal). For our daughter's 13th birthday, I ordered a 2 tier cake and it was $34.
I snapped a picture of it from the cake catalog.
Here was the finished product. We moved the orange roses and added some flowers from the dollar store, but as you can see, its beautiful!
What is your list of items that you find to be the best value at Sam's Club?
Best way to get a Sam's Club Membership for less
We've mentioned it above, but in case you glossed over it, you can get a Sam's Club membership for $5! This is by paying the $45 price, receiving a $20 gift card and $20 in free food.
One of the free items of food is a rotisserie chicken. Most expect that you would eat this for one meal. But I want to share with you how I turn this one chicken into 5 meals. This means my free chicken provides the protein for 5 meals for my family. I have the article HERE on how I make 5 meals from one chicken, BUT I also did a live video on Facebook showing how I divide the chicken into 5 meals HERE.
Want to win one of the 10 Sam's Club Plus Memberships
Everyone loves something for free. That's why we also wanted to share with you that you can also have a chance to win one of 10 Sam's Club Plus memberships. This is a membership worth $100 and has many extra benefits above the $45 membership. But you can get one of your household for free if you are one of the winners.
Just go HERE to enter the Sam's Club Membership Giveaway!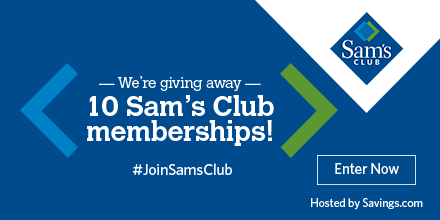 Disclaimer: This is a sponsored post written by me, but all opinions are mine. As always, we strive to bring you information that is useful for your budget and your life.