This is a sponsored post written by me on behalf of Nationwide Mutual Insurance Company. All opinions are 100% mine.
Nationwide provided me with information regarding its blog post. We have since thought about this topic, especially because we have recently purchased a new used car (with cash) and had quite the experience from the buying side to be able to offer insight. We've also sold a few cars in the past and so we can share some tips from both sides of the spectrum.
Have you decided that it's time to get rid of your ol' trusty ride? Perhaps she has served you and your family well, but you just might be ready for an upgrade.
Or perhaps you are wanting to simplify and downgrade so that you can pay off more bills.
Whatever the reason, we are sure that anyone reading this would like to get the best resell value out of their vehicle that they can…right? That's probably why you are reading this now!
We recently read an article on Nationwide regarding "Prepping Your Ride for Resale: Used Car Selling Tips."
They highlighted some key tips when it comes to reselling your car. And so we thought we would add our two cents as well from being both the buyer and the seller of a used car (through private party).
Before beginning our list, we did want to point out a good tip from the article regarding reselling vs. trading-in, if you are trading your car in, you can clean it up, but don't put any expense into it. It will most likely not make any difference to trade-in.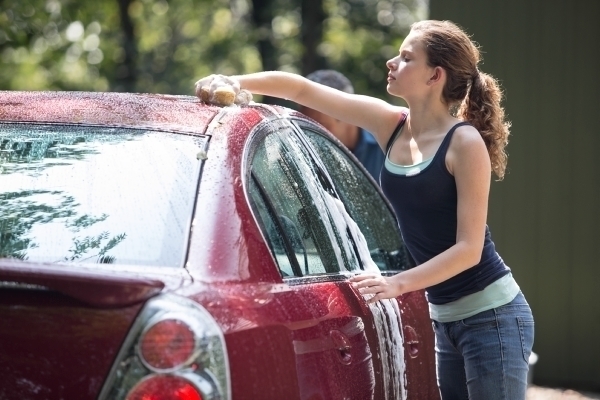 The list below are some great tips to get the most resell value out of your car:
Give it a Really, REALLY Good Cleanup
This is the time to give it the cleaning of its life. Sure, it's nice to have those detail cleanings when you are the car owner, but the cleaner the car looks, smells and shows from inside and out, the better first impression you will make.
But first impressions are not the only reason: a very well cleaned car also indicates to a potential new owner that this car was well maintained and loved.
We would recommend washing and detailing the outside (with a waxing) as well as cleaning the rugs (or replacing them if the value is higher on the car) and removing any spots on the upholstery. Give the windows a great cleaning too!
Nice Pictures with a Nice Background
In this day and age, the first place that others are going to shop for a car is online. And you are most likely listing it online, whether on Facebook, online classifieds, online local reseller's groups, etc. You want very nice pictures.
Of course, take beautiful pictures at the perfect time of the day (late morning/early afternoon) of both the interior and exterior. The more pictures, the better.
In addition, don't take them in your driveway or the parking garage or parking complex at your apartment building. Drive it to a park or a spot where you can get some amazing landscape and atmosphere. The better the atmosphere, the better the car looks. It is also easier for people to picture the car for themselves when it is not on someone's personal property and their home or other cars are the backdrops.
New Cheap Tires
If your car is higher in value, you may want to consider putting on brand new tires, but cheap ones. If you have the margin and get the value out of it, this step may prove to be more than worth it.
You can find new cheap tires for $40+ each tire, but if you can sell your car with "new tires," it's going to provide huge appeal. Many used car buyers are looking for a car that will not need anything else out the gate (and also leaves little room for negotiation) and this is a huge selling point for many prospects.
Get an Inspection
We can tell you, as used car buyers, one thing we ALWAYS do is get an inspection from a mechanic on the car before buying it. That $20 investment gives us peace of mind and saves us so much headache and heartache when buying a used car. We will never buy a used car without this.
It might be very beneficial for you as the seller and for your potential buyer to get a vehicle inspection. You can get them for around $20 on a deal. Just call around and ask for a complete auto inspection deal.
Fix Minor Mechanical Issue
Once you have had the inspection, if all turned out well, give the inspection papers in hand to any potential buyer. If you get your inspection back and there are repairs, major or minor, you can decide what you would like to fix to say "we had this done," etc.
We can attest from being on both ends of the transaction, this makes you an honest, trustworthy and respected seller and leaves little room for negotiation. You can also have your car priced at the higher end if you have no major issues and fixed minor ones.
Fresh Smelling Ride
Of course, the cherry on top of the car selling experience is a fresh smelling car.
Air the car out with all of the doors open in the fresh air. The hours of fresh air will do wonders to a stuffy, pretty much closed up car for the entirety of its life.
Next is to go gently on the air fresheners and scents. In fact, overly artificial scents will actually be a red flag for us as buyers. You don't want to appear as if you are covering something up.
Once you've cleaned the car and aired it out – the only other recommendation is a light air freshener in a more neutral scent, like a new car smell or vanilla. But nothing else as it would be overkill.
There you have it – our list of 6 Critical Steps to Take Before Reselling Your Car. Be sure to also see the tips and suggestions on the Nationwide blog.
What tips would you add?